CONCORD, N.C. — Thousands of people came to the Charlotte Motor Speedway Saturday to give Vietnam veterans the welcome home that many of them said they never got four decades ago.
Saturday's Vietnam Veterans Homecoming Celebration featured several bands, the 82nd Airborne Division "All American Chorus" and parachute jumps. The main attraction was a replica of the Vietnam memorial wall listing the names of those were killed in the war.
Related Photos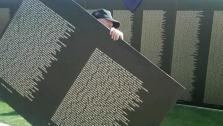 The event also had veteran service organizations that could provide help for veterans.
Related Content
The USO of North Carolina organized the event and gave out more than 60,000 free tickets.
Millions of U.S. troops — including 216,000 from North Carolina served in the Vietnam War. More than 58,000 U.S. soldiers were killed in Vietnam, including 1,600 from North Carolina.
From ABC11, Larry Stogner – a Vietnam veteran himself – and Gilbert Baez – an Army veteran were in attendance.